Continuous Monitoring Data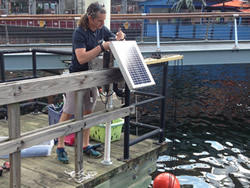 The continuous monitoring program uses instruments called water quality sondes to collect data every 15 minutes. Sondes are deployed within a PVC tube, where most record data 1-meter below the surface, while others are a fixed 0.3-meters off the bottom. Parameters collected include dissolved oxygen, turbidity, chlorophyll, water temperature, salinity and pH. Water quality profiles and additional samples are taken every two weeks when sites are visited for instrument exchanges and calibrations. Data are used to assess water quality criteria, determine impacts from episodic events, investigate long-term trends, guide and determine the success of management and restoration efforts, refine water quality models, and extend scientific understanding.
This timeline of sampling longevity at each site may be useful for choosing stations for your queries.

Don't forget to also visit our Continuous Monitoring Charts page where you can build your own charts based on a station, parameter, and date range of your choosing.
---
Continuous Monitoring Quality Assured Data:
(2001 - 2016)
Archived "Quality Assured" continuous monitoring data have been through rigorous Quality Assurance and Quality Control.
---
Continuous Monitoring Provisional Data:
(end of 2016 - 2017)
Data from the current year and the last few months of the previous year are provisional and have not yet been through our Quality Assurance and Quality Control methods.