April 11, 2019
Coastal Bays Set State Algae Record
Follow up to Maryland Coastal Bays experience unusual winter Mahogany Tide (March 19, 2019).

An unusual Mahogany Tide, caused by the algal species Prorocentrum minimum, occurred this past winter in the Maryland Coastal Bays. Laboratory data are now available for 2018 bloom and show cell concentrations greater than any that had been measured during the past two decades of monitoring. Turville Creek showed peak bloom concentrations in November 2018 while Bishopville Prong had the highest chlorophyll concentration in December 2018. New maximum levels were recorded in the St Martin River (753 μg/L in the middle St Martin River by Ocean Pines) and at two sites in Turville Creek (243.5 μg/L downstream of where Herring and Turville merge) and (306.5 μg/L upstream near the golf course). The highest algae abundance (measured as chlorophyll) ever documented in the Coastal Bays (or the State) was observed in Bishopville Prong in December (chlorophyll a = 953 μg/L).
The St Martin River has had frequent harmful algal blooms documented as a result of high nutrients (https://dnr.maryland.gov/waters/coastalbays/Documents/Ch6.2.pdf).
In the ~20 year dataset (1999-2015), chlorophyll values exceeding 200 μg/L have been seen 37 times (out of >8500 samples). Values over 300 μg/L have been observed 16 times, while chlorophyll exceeded 400 μg/L only 6 times, with one sample having a concentration >700 μg/L. In 2018, the 700 μg/L chlorophyll maxima was exceeded twice. For comparison, the highest chlorophyll value ever recorded during 34 years of monitoring in the Chesapeake Bay was 723 μg/L.


Table 1: Number of occurrences of chlorophyll exceeding different levels in the Coastal Bays.
Chlorophyll level exceedance (µg/L)
Coastal Bays
1999-2015
(n=8,547)

>700

1 (chl = 797)

>400-500
5
>300 - 400
10
>200 - 300
21
>100 - 200
111
>75 - 100
18
>50 - 75
346
<50
7,924

Regulatory guidelines recommend that chlorophyll levels not exceed 50 μg/L and maximum values should be between 15-20 μg/L for healthy seagrass habitats.
Summer temperatures in Bishopville Prong (July - September) also had the highest exceedances of seagrass temperature thresholds since 2003.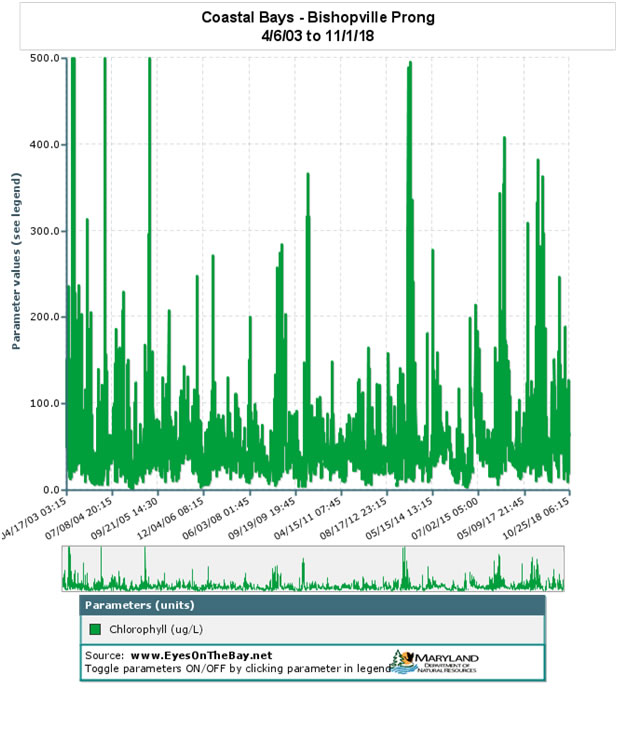 Figure 1
DNR long term chlorophyll abundance data from Bishopville Prong continuous monitoring site (2003-2018). Note data is only available through October 25, 2018 when the site was pulled for the season.


Lab and field data for November and December 2018


Date- Dec

Station

 Name

Temp (°C)

TN (mg/L)

TP (mg/L)

Chlor a
(μg/L)

Pheo (μg/L)

12/17/2018

TUV0011

Turville Creek

8.2

1.09

0.091

67.3*

3.7

12/17/2018

TUV0019

Turville Creek

8.7

1.53

0.122

121

2.3

12/17/2018

XDN3724

St. Martin River

8.1

1.50

0.111

96

3.7

12/17/2018

XDN4312 SURFACE

St. Martin River

8.2

1.56

0.112

90.8

4.2

12/17/2018

XDN4312 BOTTOM

St. Martin River

8.2

2.95*

0.218*

752.9

19

12/17/2018

BSH0008

Bishopville Prong

8.6

8.78

0.680

953.2

20.6

12/17/2018

SPR0002

Shingle Landing Prong

8.6

2.01

0.164

153.1*

6.4

12/17/2018

SPR0009

Shingle Landing Prong

8.3

1.87

0.145

135.3*

0.5

Date-Nov

Station

 Name

Temp (°C)

TN (mg/L)

TP (mg/L)

Chlor a (μg/L)

Pheo (μg/L)

11/19/2018

TUV0011

Turville Creek

11.1

2.47

0.288

243.5

4.7

11/19/2018

TUV0019

Turville Creek

11.6

3.45

0.372

306.5

3

11/19/2018

XDN3724

St. Martin River

10.3

0.73

0.052

17.7

1.1

11/19/2018

XDN4312 SURFACE

St. Martin River

10.1

1.10

0.096

50.7

4.2

11/19/2018

XDN4312 BOTTOM

St. Martin River

10.8

0.46

0.028

4.5

0.6

11/19/2018

BSH0008

Bishopville Prong

11.8

0.80

0.067

23.9

2.4

11/19/2018

SPR0002

Shingle Landing Prong

11.4

2.53

0.215

104.1*

1.3

11/19/2018

SPR0009

Shingle Landing Prong

not sampled; too shallow
BOLD = new max value for site
* = new top 10 value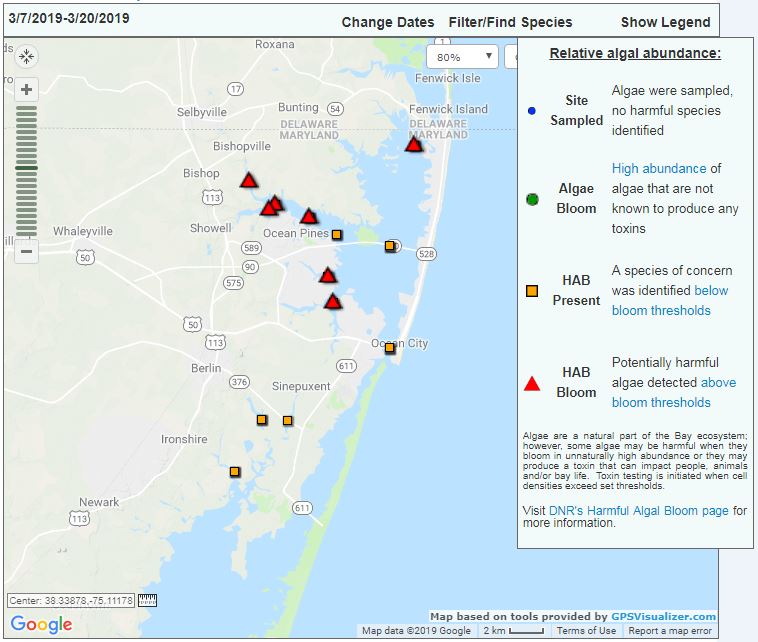 Figure 2. The Prorocentrum minimum bloom continued through March (field data not shown). Red triangles indicate where bloom concentrations of P. minimum were detected, orange squares show where P. minimum was present below bloom concentrations.
Source: Maryland Department of Natural Resources Eyes on the Bay https://eyesonthebay.dnr.maryland.gov/eyesonthebay/habs.cfm